10 Things You Should Keep In the Car in Case of an Accident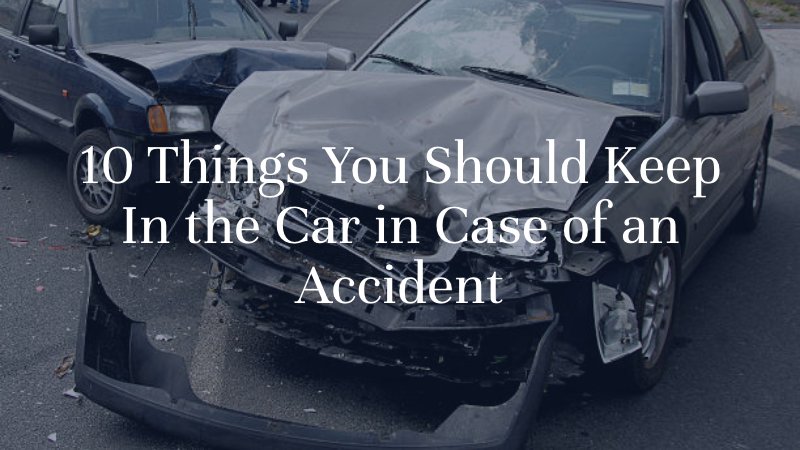 It's true that accidents occur when you least expect them, but wise motorists drive prepared, not only by wearing their seatbelts but also by keeping important emergency and safety items inside their vehicles to minimize the dangers of an accident. Even the most diligent drivers can experience an Oklahoma City car accident, often due to another driver's error or inclement weather conditions. If the worst happens, the following ten important emergency items can help to minimize the risk of deadly consequences.
A Cell Phone and Charger
It almost doesn't have to be said—since most of today's drivers don't go anywhere without a phone—but because a phone becomes a critical, lifesaving tool after an accident, it's important to always double-check that you haven't left your cell phone and charger behind, even for a quick trip to a nearby convenience store. In an accident, victims can use their phone to call 911 to report the accident, get critical life-saving emergency information to help injured victims, and document photographic evidence after the crash.
A Fully-Stocked First Aid Kit
Every motor vehicle should have a fully stocked first aid kit with an emergency tourniquet, bandages, antibacterial ointment, gauze, scissors, and adhesive tape. While you may not be able to treat severe injuries, a first aid kit can help treat minor injuries while you wait for paramedics.
An Emergency Blanket
A blanket is handy in many circumstances, but it can be life-saving during an accident in cold climates, especially if you have to wait for some time before emergency vehicles can arrive due to inclement weather conditions. An emergency blanket can also improve the survival chances for injured victims by minimizing the consequences of shock.
A Flashlight and Flares
Light can be critical in traffic accidents that take place after dark or in foggy or stormy weather conditions. Be sure you have a heavy-duty flashlight with working batteries in your car at all times. Emergency flares and/or traffic triangles are also critical to protect your damaged vehicle from further impacts after a crash. Flares or reflective triangles can warn approaching drivers of a disabled vehicle on the roadside or in the flow of traffic.
A Fire Extinguisher
Many car accident victims suffer serious injuries from burns. Keeping a working fire extinguisher inside your can can be a lifesaving tool.
Emergency Tools
It's important to have a multipurpose tool in your car within reach in case of an accident. A multipurpose tool for emergency preparedness can help you cut a seatbelt to release yourself or a loved one after a crash, or break a window if necessary to escape a damaged vehicle after an accident. Seatbelt cutters/window breakers are life-saving tools in an accident, and some emergency tools also have handy screwdrivers and other important implements.
Spare Tire and Jack
Having a spare tire and jack is essential if you have a flat tire, especially if the flat occurs in a dangerous location.
Emergency Food and Water
In rare instances, an accident could leave you stranded off the road for some time until help arrives. Having emergency water and food on hand can help if you're waiting hours or more for rescue. It's especially important in cold weather climates when vehicles may slide off the road and become stuck in deep snowbanks. Wintery weather makes it difficult for rescue to arrive promptly after an accident.
Document Organizer
If you've been injured in an accident or simply pulled over for a traffic violation, it isn't the time to be fumbling around in a messy glove box for important documents like your vehicle registration and proof of insurance. Keeping important documents in an organizer helps to have your information ready in an emergency.
Cat Litter
If you live in a cold weather climate and drive in wintery weather, keeping cat litter in your car is an important safety tool. Cat litter applied behind tires stuck in snow or sliding on ice provides the grip the tires need for you to move your vehicle out of danger.
If you've been injured in a car accident, please contact an Oklahoma City personal injury attorney from Dan Davis Law today.