Oklahoma Motorcycle Accident Lawyers
With little to protect them other than durable clothing and a helmet, riders on a motorcycle typically suffer serious injuries, and in the worst cases, fatal injuries when accidents occur. In Oklahoma, state reports determine there were 1,278 motorcycle crashes in 2019 alone. Of those collisions, 66 of those accidents were fatal and 266 people sustained serious injuries.
At the Law Offices of Dan Davis, our Oklahoma City injury attorneys understand how difficult life can become after a person has sustained serious injuries due to another person's careless, reckless, or negligent acts, and that is why we are here. When you entrust us with your case, we will do everything in our power to pursue maximum compensation for you and your family.
What Can an Oklahoma Motorcycle Accident Lawyer Do For You?
The attorneys at Dan Davis Law have over 25 years of experience navigating motorcycle accident claims in Oklahoma with a track record of winning millions for our clients in that time. With diligent attention to detail and the personal touch that only a family-owned law firm in the heart of Deep Deuce in OKC can provide, we will:
Investigate all aspects of your accident to determine who is liable for the damages

Speak to any eyewitnesses

Examine photo and video evidence that could exist from traffic cameras, nearby surveillance cameras, or dashcam video

Consult with accident reconstruction experts

Prove liability on the part of the driver, parts manufacturer, city road maintenance agency, or other at-fault parties by demonstrating their negligence

Consult with medical professionals about your prognosis and the likely outcome of your injury on your lifestyle

Calculate your damages including compensation for your pain and suffering

Draft a demand letter to the appropriate insurance company

Handle all communications/negotiations with the insurance company with your best interests as our priority

Resolve the matter with an ample out-of-court settlement with the insurance company or pursue litigation through a court lawsuit if the insurance company acts in bad faith and refuses to offer an acceptable settlement amount
Don't try to go it alone against powerful insurance companies who do not have your best interests at heart. Our strong local reputation is a benefit when dealing with insurance providers.
Proving Liability in Oklahoma Motorcycle Accidents
Once your lawyer clearly identifies the party at fault for your accident—most often a negligent or reckless driver, but sometimes another party such as the manufacturer of a defective part—they will gather evidence to prove their liability by demonstrating the following:
That the at-fault party owed you and other motorcyclists a duty of reasonable care to prevent injuries by remaining vigilant to the presence of motorcycles on the roadways and obeying traffic laws, or a manufacturer's duty to produce safe and effective parts

That they breached this duty of care and failed to act in the way a reasonable person would have in the same circumstances to prevent injury

That the negligent breach or reckless action directly caused your injury

That you've sustained real damages from the injury, including economic and non-economic damages, and that they must provide compensation
By demonstrating the above points, your lawyer can maximize your chances of receiving full compensation for your damages.
Will I Have to Go To Court For My Oklahoma Motorcycle Accident Claim?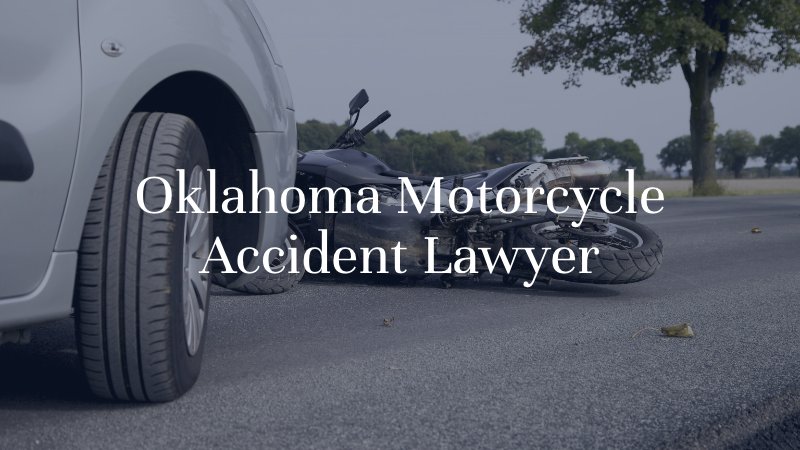 Nearly 95% of personal injury cases settle out of court, including motorcycle accident claims when the injury victim hires an experienced attorney. Oklahoma allows time for negotiating with the appropriate insurance company to attempt to settle out of court, but if the company practices bad faith policies and doesn't offer an ample settlement, your motorcycle accident attorney from Dan Davis Law in Oklahoma City is experienced and effective in courtroom litigations and is more than willing to take the matter to court by filing within the state's statute of limitations for personal injury claims.
What is Oklahoma's Statute of Limitations on Motorcycle Accident Lawsuits?
Like all states, Oklahoma has a statute of limitations in place for filing personal injury claims. These time limits help ensure that evidence is still available and witness testimony is fresh and reliable should the matter end up in court. In Oklahoma, motorcycle accident victims have 2 years in which to file a lawsuit. If an insurance company fails to offer full compensation, and you wish to move forward into a lawsuit, your attorney from Dan Davis Law will file the lawsuit in the proper jurisdiction within the statute of limitations and proceed to represent you in court.
While jury trials for personal injury claims may take some time to litigate, they also tend to deliver higher awards for compensation through jury verdicts.
What to Do After a Motorcycle Accident in Oklahoma
Motorcycle accidents are highly traumatic. Due to the same unenclosed design of a motorcycle that makes riding so exhilarating, bikers have very little protection. Even a helmet cannot prevent all head injuries since a violent force can cause the brain to shift inside the skull and bump against the bony inner surface. 
If you are too injured to move or unconscious, clearly you can do little or nothing except wait for help. However, if you are able to move without causing further injury and your phone is still intact, you can use your phone—or if you're immobile you can ask an uninjured party to use it for you—to do the following:
First, always call 911 to report the accident and request first responders

Take photos of the accident scene including other vehicle(s) involved

Take photos of any other relevant factors such as traffic signals, road signs, or a dangerous pothole or road debris

Take photos of any visible injuries

Collect the contact information of other drivers and eyewitnesses to the accident

Once at the hospital, ask for a full evaluation and tell the provider about all of your injuries and every symptom, even if it's mild. Many worsen over time or could be masked by adrenaline

Ask for a detailed medical report listing your injuries, the necessary treatments you'll undergo, and your prognosis

Gather the accident report, doctor's report, and your medical bills and call the attorneys at Dan Davis Law of Oklahoma City for representation and direct all communications with insurance companies to your lawyer
These steps can make it easier to prove your claim and protect your physical and financial future.
Insurance companies sometimes use tactics to trick you into signing away your rights for a small settlement or denying your claim completely. Having a lawyer aggressively defending your rights can protect you against these common bad-faith practices.
Types of Compensation In Oklahoma We Can Help You Recover
After a serious motorcycle accident occurs, the victim and the victim's family will undoubtedly experience costly medical expenses as well as other matters involving finances. For this reason, our experienced Oklahoma City accident attorneys at the Law Offices of Dan Davis know how to fully assess the financial impact of a motorcycle accident injury.
When we handle your case, our team will work diligently to recover compensation for the following:
Medical bills
Lost wages
Physical therapy expenses
Speech therapy expenses
Physical Pain

Often other applicable non-economic damages such as disfigurement, loss of limb, or loss of pleasure in life
While financial compensation cannot cure pain or erase the memory of your suffering, it can help open doors to medical care and counseling and provide a financial cushion so you can focus on your recovery.
We've Represented Clients Suffering Serious Injuries
Many motorcycle accident cases involve pursuing compensation to manage the life-long effects associated with injuries, such as paralysis, amputation, or brain injury in Oklahoma City. In cases where a rider is struck in a head-on accident, the results are often fatal and, if negligence is a factor in the accident, may be grounds for a wrongful death claim.
Other motorcycle accident injury cases include:
Broken Bones
Loss of Mobility
Internal Injury
Severe Abrasions Requiring Skin Graft
Loss of Limbs
Get in Touch with the Law Offices of Dan Davis, Call (405) 930-4210 Now, We Can Help
Backed by more than two decades of legal experience, our Oklahoma City motorcycle accident lawyers at the Law Offices of Dan Davis possess a wide range of knowledge and skills to handle your personal injury case. No matter what your circumstance may be, our legal team can examine your case and determine which strategies can help you recover monetary compensation in the shortest amount of time possible. Don't wait to retain the legal advocacy you need to protect your future.