Oklahoma Injury Attorneys
Injuries are always painful and distressing, especially if they cause long-term or life-altering consequences, but when an injury occurs due to someone else's negligence or wrongful actions, they are especially traumatic. You might be dealing with anger, frustration, and a desire for justice. A successful personal injury claim is a way of achieving justice and closure as well as financial compensation for the damages caused by your preventable injury.
Personal injury law allows people who are injured by another person's negligence to pursue compensation from the person or party who caused the harm. This money can be used to pay for things like medical bills, damage to property, lost income, and other out-of-pocket expenses related to an accident, and can also compensate for non-economic damages including pain and suffering, emotional and mental anguish, and more.
Types of Personal Injury Cases We Handle In Oklahoma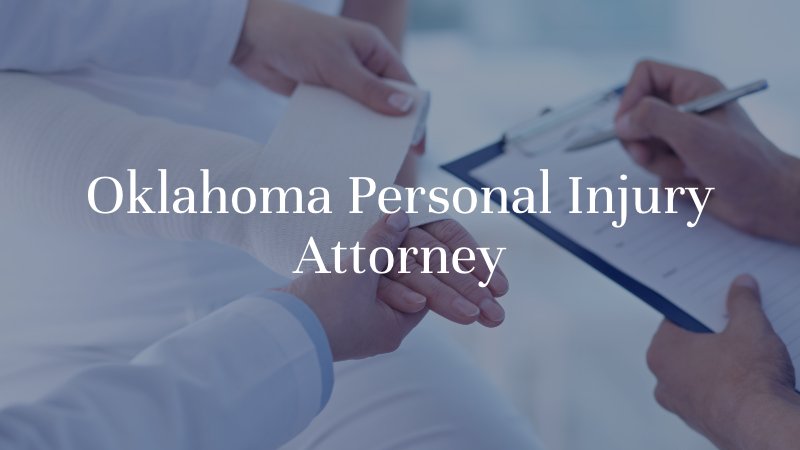 At the Law Offices of Dan Davis, our experienced Oklahoma City injury lawyers handle the full range of personal injury cases. Call us if you need legal assistance with any of the following matters:
Car accidents
Truck Accidents
Catastrophic injury
Wrongful Death
Dog bites
Nursing home abuse and neglect
Product liability
Dangerous drugs
Premises Liability
Slip and Fall
When another party causes harm to come to you, they are responsible for the economic damages you suffer from the emergency medical treatment and ongoing care. Typically, the compensation comes from the relevant insurance company such as the at-fault party's car insurance in a traffic accident, property insurance in a slip and fall case, or malpractice insurance in a medical malpractice case. Unfortunately, insurance companies do not always act in good faith and may try to minimize your payout or deny your claim completely. An Oklahoma personal injury attorney can maximize your claim for damages so you can recover your financial expenses related to the accident and gain compensation for your pain and suffering.
Intentional Acts of Personal Injury In Oklahoma
Acting with intent to directly cause harm to another party constitutes an intentional act of personal injury. There are different degrees of intent to cause harm. An intentional act of personal injury claim generally will consider whether the act was planned or committed in the heat of the moment, or committed as a response to another event.
An intentional act of personal injury can involve:
Physical force or assault
Property damage
Psychological or emotional injuries
Reckless operation of a vehicle or machinery
The law protects the rights of injury victims who suffer a loss due to another's negligence or intent to cause harm. If death occurs, call to speak with the experienced Oklahoma City wrongful death attorneys at the Law Offices of Dan Davis today. We're ready to help you start building the strongest possible claim.
Negligent Acts of Personal Injury
Someone who has committed a negligent act typically has failed to use reasonable care to prevent harm or loss in a situation where an injury could have been prevented. Some aspects of Oklahoma law, such as premises liability, have specific standards for determining how or if this duty of care is upheld.
Negligent acts of personal injury may include:
Driver distraction
Third-party workplace accident
Pedestrian accident
Dangerous drugs
Slip and fall accidents
An insurance company may attempt to reduce the settlement they pay an injury victim by trying to make it appear that the victim was responsible for what happened. At the Law Offices of Dan Davis, we have experience negotiating successfully for our clients who are disputing insurance companies. We fight aggressively to pursue the maximum settlement for our clients.
Common Injuries in Oklahoma Personal Injury Claims
Whether from a car accident, a bad fall, or another cause, a serious injury resulting from someone else's negligence deserves compensation from the party at fault. Common injuries cited in personal injury claims in Oklahoma include:
Head injuries and traumatic brain injuries (TBI)

Back and neck injuries

Broken bones

Spinal cord injuries

Internal injuries

Lost limbs

Disfigurement

Burns
Serious injuries can be life-altering, either temporarily or permanently. Injury victims don't have to face a changed future alone. A personal injury attorney will defend your rights and best interests through the entire claims process to maximize your recovery.
Proving Liability in Personal Injury Cases
Oklahoma civil courts require plaintiffs (injury victims) in personal injury cases to prove the at-fault party (defendant) liable for damages through a preponderance of the evidence. A personal injury lawyer from Dan Davis Law will investigate all aspects of the injury and gather evidence to demonstrate the legal liability of the at-fault party. This means using evidence to show the following:
That the party at fault owed a duty of reasonable care to prevent injury to you and others such as a driver's duty to avoid distraction and follow traffic laws or a store owner's duty to promptly mop up spills or place wet floor warning signs

That they failed in this duty through negligence or reckless action

That the breach of duty directly caused your injury

That you suffered significant economic and non-economic damages due to the injury
Once your attorney can demonstrate the defendant's liability, they'll craft a compelling case for your compensation in a demand letter to the appropriate insurance company. Most personal injury claims settle out of court through your lawyer's negotiations with the insurance company. A claim only becomes a lawsuit if the insurance company fails to offer an acceptable settlement amount.
What is the Statute of Limitation for Personal Injury Claims in Oklahoma?
Oklahoma limits the amount of time injury victims have to file a personal injury lawsuit in court to two years from the date the injury occurred or from the date the victim discovered the injury. With prompt action, after you have a good idea of the scope of financial damages you face from the injury, your attorney will have time to:
Investigate all aspects of the accident that caused your injury

Identify the liable party and gather evidence to prove liability

Negotiate back-and-forth with the insurance company to achieve a settlement out of court

File a lawsuit within the 2-year statute of limitations if the insurance company acts in bad faith and fails to offer an acceptable settlement amount
Limiting the amount of time for plaintiffs in personal injury cases to file lawsuits helps to ensure that evidence and testimony remain fresh and available should the case require litigation in court.
Oklahoma Pain and Suffering Damages
It is difficult to objectively measure the pain you may be experiencing after an accident. The insurance company may try to limit or deny your pain and suffering claim. This is why it's important to have an experienced lawyer on your side.
At the Law Offices of Dan Davis, we can investigate your case and show how your pain and suffering have changed your quality of life. We help our clients present the strongest possible claim for pursuing pain and suffering damages.
Elements that can be used to pursue compensation for pain and suffering include, but are not limited to:
Medicines prescribed by a physician
Duration and extent of medical treatment
Need for occupational and/or physical therapy
Interviews/testimony from parties familiar with your lifestyle and work before the accident
Count on the Law Offices of Dan Davis to guide you in pursuing the maximum settlement you are owed from your car accident, motorcycle accident, or workplace accident.
What to Do After Suffering a Personal Injury In Oklahoma 
No matter how your injury occurred, if it happened because of someone else's actions or negligence, you can help to maximize your chances of a successful claim by taking specific steps. If you were very seriously injured, you may not be able to do anything other than wait in place for help, but if you can use your cell phone—or hand it to an uninjured person to use for you—the following actions will help your case later:
Call 911 or emergency services to report your injury and request help

Take photos of your visible injuries

Take photos of the scene of the accident, including any relevant factors that contributed to your injury

Gather the contact information of any other involved parties such as the other driver in a car accident or a business owner in a premises injury case

Add the contact information of any eyewitnesses to the accident
After you arrive at the hospital, ask for a complete evaluation and tell the doctor about all of your injuries and symptoms. Ask for a detailed report about your injuries, listing your doctor's recommended treatments as well as your eventual prognosis. Then, save all medical bills and call the attorneys at Dan Davis Law in Oklahoma City before speaking to insurance companies.
Damages Available in Personal Injury Cases
Serious injuries quickly become expensive. Medical bills pile up at the same time that you may be unable to work due to your injury and recovery time. A successful personal injury claim can help you recover damages including:
Your medical expenses and any anticipated future medical costs related to your injury

Lost wages and future lost income

Diminished earning capacity if your injury was disabling

Pain and suffering

Other applicable non-economic damages like PTSD, disfigurement, or emotional trauma
While financial compensation cannot "fix" pain and suffering, emotional anguish, and other intangible damages, it is the court's only way to redress a wrong done to injury victims. The compensation can provide a financial cushion while you focus on healing from your injuries. 
Call (405) 930-4210 Now For a Free Consultation, We Can Help
Our Oklahoma City accident lawyers know how to help clients every step of the way. We're familiar with all aspects of personal injury law, including how to prove negligence and maximize compensation. Not only will we fight to help you take care of your medical bills, but we'll also assess the long-term cost of your accident, including pain and suffering, emotional distress, and other damages. From the moment you contact us, you can expect us to go the extra mile in pursuing the benefits you deserve.