Tulsa Personal Injury Lawyer
A sudden injury is painful and traumatic, but often the distress continues long after the initial emergency when the injury victim faces the complex legal system to recover their financial damages. A personal injury lawyer in Tulsa can help navigate this highly specialized area of Oklahoma law to maximize compensation for injured clients. At the family-operated firm of Dan Davis Law in Tulsa, our experienced attorneys provide invaluable legal counsel with skill, compassion, and diligent adherence to the law.
If you or a loved one suffered a serious injury due to someone else's failure to take reasonable measures to prevent harm, a successful personal injury claim can help recover financial damages so you can focus on physical recovery and achieve a sense of justice.
Quick Personal Injury Resources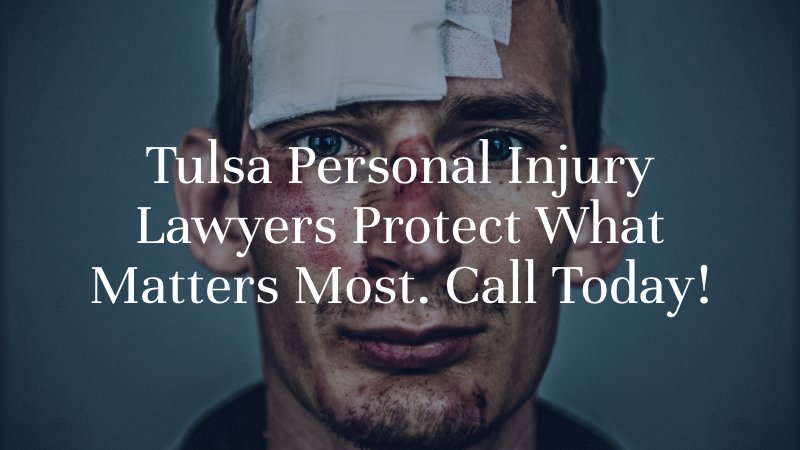 What is a Personal Injury Claim in Tulsa?
Like all states, Oklahoma provides legal recourse for citizens who suffer injuries directly caused by another party's negligence, recklessness, or intentional wrongdoing. Legally, the word "injury" refers to any losses sustained by an individual, while "personal injury" refers to direct medical injuries with significant economic and non-economic damages.
Criminal courts focus on punishing wrongdoers, while civil courts in Oklahoma focus on holding negligent individuals, businesses, manufacturers, and government agencies accountable for damages caused by their actions or lack of actions. A personal injury case in Tulsa helps achieve both the recovery of injury-related damages and a sense of justice for injured victims.
Common Tulsa Personal Injury Claims
A sudden painful injury can occur at any time, but when it's a preventable injury that happens due to someone else's negligence, the victim shouldn't be left holding the bag for damages like medical expenses and lost income. Common personal injury claims in Tulsa include claims against negligent parties or those who commit reckless or wrongful actions that injure others. Common Oklahoma personal injury claims include the following:
Car accidents
Truck accidents
Motorcycle accidents
Pedestrian accidents
Bicycle accidents
Workplace injuries
Slip-and-fall injuries (premises liability cases)
Medical malpractice
Defective product injuries
Dog bites
Acts of violence
Serious injuries cause significant damages to victims who may be unable to return to work at the same time that bills for injury-related medical treatments begin piling up. A personal injury attorney from Dan Davis Law can navigate a personal injury claim on your behalf to ensure you get the financial relief you're owed so you can focus on your health. Whether you were attacked by a dog or need assistance with a Tulsa car accident lawsuit, our attorney can help.
Proving Liability in Personal Injury Claims in Tulsa
A skilled attorney from Dan Davis Law can diligently investigate the circumstances of your injury to document evidence proving the at-fault party's negligence and liability including demonstrating the following:
That the at-fault party owed a duty of care to take reasonable actions to prevent injuries, such as a truck driver's duty to follow traffic laws or a manufacturer's duty to produce safe products
That they breached this duty through negligence, recklessness, or wrongdoing
That the negligent breach directly caused the victim's injury
That the injury victim suffered significant damages from the injury
Damages in serious injuries are typically both economic and non-economic, and both deserve compensation.
Why Choose Us to Recover Damages in Your Tulsa Personal Injury Case?
The Tulsa personal injury attorneys at Dan Davis Law have deep compassion for the ripple effects of a serious injury on the victim's life and family. Our dedicated lawyers will thoroughly investigate your injury, gather and document evidence of liability, and craft a compelling case for compensation for your damages for an ample settlement from the appropriate insurance company. If they fail to provide compensation, we are more than ready to litigate the matter in a lawsuit in court to secure compensation for common personal injury damages such as:
Medical expenses and future expenses for medical care related to the injury
Lost income and future income loss or diminished earning capacity
Pain and suffering
Other applicable damages like disfigurement, traumatic limb loss, loss of vision/hearing, or PTSD
Contact Dan Davis Law in Tulsa today for a free consultation so we can begin a winning strategy to maximize your compensation. Compensation cannot erase an injury, but it can open doors to the best medical care and relieve undue financial burdens on your family.