Oklahoma City Car Accident Attorney
A car accident can be distressing and devastating for everyone involved. You may suffer serious and debilitating injuries that require expensive medical care, as well as property damage that puts your car in the shop. In the worst car accident cases, you might also suffer the devastating loss of a loved one.
If this is the case, please visit our Oklahoma City wrongful death attorney page.
At Dan Davis Law, we can help you cut through the hassle of a car accident claim and fight for justice and a fair financial recovery. We can connect you to the legal resources, medical providers, and information that you need to get your life back on track. Contact our Oklahoma City car accident lawyers today for a free car accident consultation.
Why Choose An Oklahoma City Car Accident Lawyer From Dan Davis Law?
Our car accident attorneys have over 25 years of experience representing individuals and families in these types of insurance claims and lawsuits.
Our Oklahoma City accident attorneys are attentive, caring, and good listeners. First and foremost, we are here to help you and your family get through a difficult time. Our law firm was founded on a passion for helping others.
Your lawyer will operate on a contingency fee basis, meaning he or she won't get paid unless you do. We keep our attorney's fees reasonable and affordable.
When to Call an Oklahoma City Car Accident Lawyer?
It is not a legal requirement to hire an attorney to represent you during a car accident case in Oklahoma; however, it can make an important difference in the outcome of your case, and your experience during the legal process. You may not understand how to navigate Oklahoma's car accident laws and could make a mistake that hurts your ability to recover financial compensation. An attorney, on the other hand, has the training and experience to do what must be done to achieve a positive case result on your behalf.
What Are Common Causes of Car Accidents in Oklahoma?
According to Oklahoma Public Safety, there were 61,739 car accidents in Oklahoma in 2020, including 602 fatal accidents and 1,700 that caused serious injuries. In fact, Oklahoma City had the highest number of car accidents out of all cities in the state (16,280). Almost all of these car accidents could have been prevented with appropriate and reasonable care by drivers and other parties.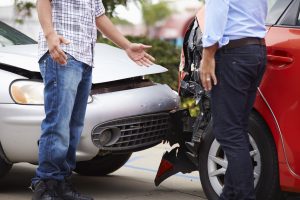 Preventable driver errors and mistakes cause the majority of car accidents in Oklahoma City. Some of the most common causes include:
Distracted driving
Texting and driving
Drunk driving
Speeding
Red-light running
Reckless driving
Unsafe lane changes
Failing to yield the right-of-way
Inexperienced drivers
Vehicle design defects
These careless driver behaviors and issues can also cause car, motorcycle, bicycle, and pedestrian accidents in Oklahoma City. It is a driver's responsibility to avoid breaking laws and taking other actions behind the wheel that put others at risk. This includes both negligence (a lack of reasonable care) and recklessness (actions taken with a wanton disregard for the safety of others). If a driver is negligent or reckless and this causes a car accident, injured victims have the right to pursue compensation.
What Are Some Types of Car Accidents In Oklahoma?
In many cases, the cause of a car accident can be identified by recognizing the type of crash. A rear-end collision, for example, shows that the rear driver most likely was not paying attention or following too closely and that this is why he or she crashed into the back of another car. Common types of car accidents include:
Drunk driving accident
Hit-and-run
Auto defect accident
Rollover
Chain-reaction crash
Single-vehicle accident
Rear-end collision
T-bone accident
Head-on collision
Wrong-way crash
Construction zone accident
Truck jackknife accident
Lost cargo load accidents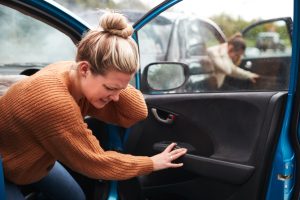 Any type of motor vehicle collision can inflict serious and debilitating injuries on a victim. However, car accidents that involve speeding, intoxication, reckless driving, and truck accidents in Oklahoma City can be even more harmful to victims and inflict permanent or fatal injuries.
What Are Oklahoma Car Accident Laws?
You must navigate Oklahoma's related laws to get through the recovery process after a car accident. There are regulations in place for the recovery of financial compensation from a driver's insurance company in Oklahoma. Failing to obey any of these laws could result in the courts rejecting your claim based on filing errors. Three of the most important car accident laws to know are:
Fault law: Oklahoma is a fault car insurance state, like most states. This means that the driver who caused the car accident is responsible for paying for victims' medical bills and property losses, generally out of his or her auto liability insurance. All drivers in Oklahoma must carry minimum amounts of liability insurance for this purpose.
Comparative negligence: The modified comparative negligence law in Oklahoma states that even if the victim is partially at fault for the accident, he or she could be eligible for financial compensation. As long as the victim's degree of fault is less than the defendant's, he or she can receive a settlement or a verdict (minus the victim's percentage of fault).
Statute of limitations: This law enforces a strict deadline on the ability to file a personal injury lawsuit. In Oklahoma, the statute of limitations on a car accident case is two years from the date of the accident or of injury discovery. The earlier you contact an attorney, the stronger your ability to hold someone responsible.
An attorney can navigate all of the laws surrounding your car accident case on your behalf. Our team at Dan Davis Law has been successfully handling motor vehicle accident lawsuits throughout Oklahoma for many years. We can help you understand and navigate the specific laws that pertain to your case to help you get reimbursed for the expenses connected to a vehicle accident.
Contact An Oklahoma City Car Accident Attorney Today
If you or a loved one has been injured in a car accident in Oklahoma City, Oklahoma, contact our local personal injury lawyers at Dan Davis Law for a free consultation. We will carefully listen to your story and list all of the ways that we can help. Our car accident lawyers have the resources, personnel, and abilities needed to investigate your car accident and help you hold one or more parties accountable. We will help you and your family recover from a car accident and move on. Contact us or call (405) 602-6605 today to request your free case review. We look forward to hearing from you.