Oklahoma City Uber And Lyft Accident Attorney
If you get injured in an Uber or Lyft accident in Oklahoma City, you may be entitled to financial compensation from the rideshare company for your injuries and losses. Most rideshare accidents are preventable and stem from mistakes such as distracted driving and speeding. If you've been injured in this type of collision, contact the Oklahoma City accident attorneys at Dan Davis Law for a free consultation about your legal options. We will help you pick up the pieces and pursue fair compensation for your crash.
Why Choose An Oklahoma City Uber And Lyft Accident Lawyer From Dann Davis Law?
We have spent over 25 years providing legal representation to help injured accident victims recover and move on. We are driven by a deep interest in helping others.
Our law firm is local to Oklahoma City. We are a family-owned and family-run firm located in the heart of Deep Deuce.
Our Oklahoma City accident lawyers have successfully obtained hundreds of millions of dollars in settlements and jury verdicts for past clients.
We operate on a contingency fee basis. This means we only charge a fee for our services if we secure financial compensation on the client's behalf.
Why Do You Need an Attorney After a Rideshare Accident in OKC?
A rideshare accident attorney in Oklahoma City will know exactly how the legal process works. Your attorney will properly navigate a personal injury or wrongful death claim caused by an Uber or Lyft accident, working hard to bring the at-fault party to justice and secure the financial compensation that you need to move forward. Your lawyer will take care of legal paperwork, filing requirements, evidence collection, the hiring of experts and even going to trial, if it comes to this, on your behalf. From the very beginning of your case, an attorney will put your best interests first and do what it takes to achieve a positive case outcome for you and your family.
If you are put in a terrible situation in which someone loses their life in the event of a rideshare accident, please visit our Oklahoma City wrongful death attorney page.
Who Pays for an Uber or Lyft Accident in Oklahoma?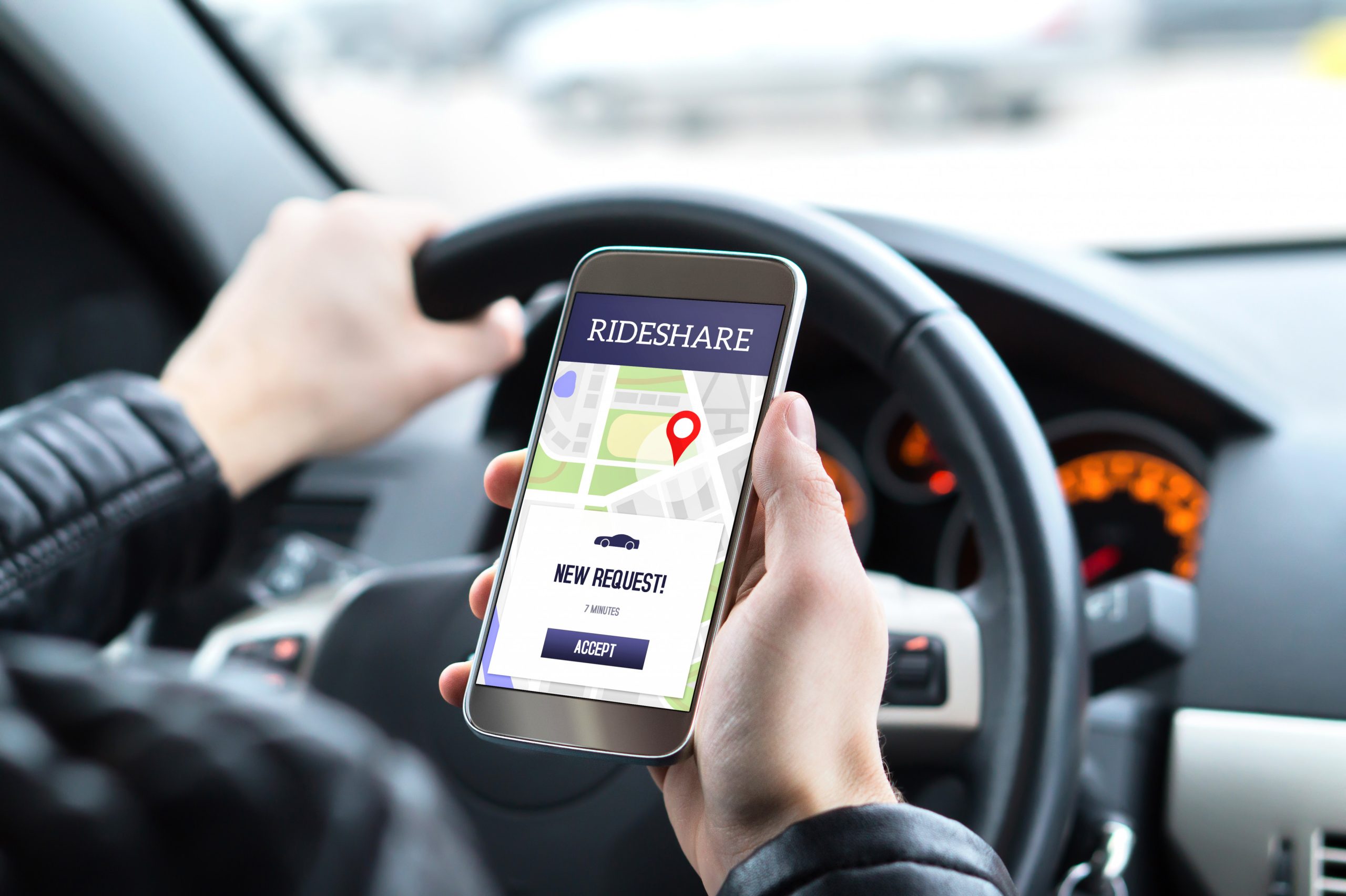 The rideshare industry is unique from a typical Oklahoma City car accident claim. It is not like the taxi industry or any other form of transportation. One of the main distinctions is that Uber and Lyft do not classify their drivers as employees; instead, rideshare drivers are independent contractors, meaning they are technically their own bosses. This can change your options for holding someone financially responsible, or liable, for your accident.
Unlike in a taxi cab accident, you generally cannot use the rule of vicarious liability to hold a rideshare company responsible for the actions of a driver. Uber and Lyft both use the independent contractor defense to avoid vicarious liability for collisions caused by their drivers. Both rideshare companies have $1 million insurance policies, however, available to pay for any losses that the rideshare driver's personal auto insurance policy does not cover.
You may be eligible for coverage for your bodily injuries and property damage under the $1 million policy if you were a passenger in an Uber or Lyft when it crashed or if a rideshare driver crashed into you while he or she was actively searching for a rider or on the way to pick someone up. If the driver was off-duty and not logged into the Uber or Lyft app at the time of your collision, however, you will only be able to file a claim with his or her personal insurance.
If you were in a rideshare vehicle that was in an accident with a commercial truck, please reach out to speak to our OKC truck accident attorneys.
What to Do After an Uber/Lyft Accident?
If you get injured in an Uber or Lyft accident in Oklahoma City, remain calm and document everything.
Take photographs and videos of the crash
Take a screenshot of the Uber or Lyft driver's information in the app
Write down key facts such as the time, date, location, both drivers' names, and a description of the vehicles
Call 911 to report the accident if no one else does
Call an ambulance or go to a hospital immediately to treat any injuries
Request copies of your medical bills
Contact the rideshare company to report the crash
Then, before you accept a settlement from Uber, Lyft, or the driver's personal insurance company, consult with an Oklahoma Uber and Lyft accident attorney to determine if the offer is fair and reasonable
Contact an Oklahoma City Uber/Lyft Accident Lawyer for Free Today
At Dan Davis Law, our Oklahoma City injury lawyers have been representing clients in rideshare accident cases since the advent of this industry. We keep up with all of the latest laws and changes to provide high-quality legal representation to each client. We offer free consultations and won't charge you unless we win your case. Find out how we can help you in more detail. Contact us or call (405) 930-4210 today for a free case review.