Oklahoma City Truck Accident Attorney
If you've been injured in a commercial truck accident, the Oklahoma City truck accident attorneys of Dan Davis Law can help you fight for the case outcome that you need to move forward. Although every motor vehicle accident has the potential to be devastating, 18-wheeler accidents are known for being extremely harmful to victims, often inflicting catastrophic and fatal injuries. At Dan Davis Law, we take our commitment to clients seriously. We will do what it takes to help you achieve the justice and financial compensation that you deserve.
If you have lost a loved one due to a trucking accident, please visit our Oklahoma City wrongful death lawyer page for more information on your case.
Why Choose An Oklahoma Truck Accident Lawyer From Dan Davis Law?
With more than 25 years of experience, hundreds of millions of dollars won and thousands of resolved cases, we have what it takes to successfully handle your case.
We have the experience, knowledge, and tools to obtain maximum results for each client. We have licensed OKC injury attorneys who can take your truck accident case to court, if necessary.
Our law firm takes cases on a contingency fee basis, with no fees assessed unless we win financial compensation for the client.
What Are Common Causes Of  Truck Accidents in Oklahoma City?
In Oklahoma, the state's fault insurance law requires injured car accident victims to determine the causes of their accidents before they can file claims. This is because the law holds the at-fault party responsible for paying for victims' medical bills and property repairs. You may need a law firm to assist you in truck accident investigation and evidence collection. A truck accident attorney can determine the cause of the collision with assistance from experts such as crash reconstructionists.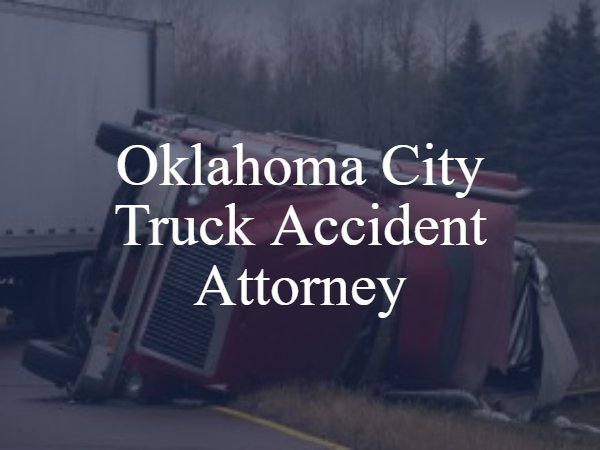 Common causes of commercial carrier accidents in Oklahoma include:
Driving while intoxicated
Distracted driving/cell phone use
Drowsy driving
Driving too fast for conditions
Breaking roadway rules
Following too closely
Hiring or training problems at the company
Poor vehicle maintenance
Overloaded or improperly loaded truck
Defective truck part
Truck drivers and trucking companies have a responsibility to obey safety laws and do what is necessary to prevent accidents. Carelessly violating any of the rules could result in a serious traffic accident. If an investigation finds that a commercial trucking company or one of its employees – including an independently contracted truck driver – caused your truck accident in Oklahoma City, the company could be financially responsible (liable) for your losses.
How Can An Oklahoma Truck Accident Attorney Help You?
Following a truck accident in Oklahoma City, you don't have to go up against a powerful trucking company or insurance corporation on your own as an injured victim or loved one. You have the right to hire an attorney who understands these accidents to represent and assist you. A truck accident attorney can take care of claims filing, crash investigation, evidence collection, eyewitness interviews, expert testimony, and more on your behalf – allowing you to focus on your physical and psychological recoveries. Hiring a truck accident attorney can prevent an insurance company from taking advantage of you and increase the value of your settlement or judgment award.
About Commercial Carrier Accident Claims
It can be even more important to hire a personal injury lawyer after a truck accident than a standard Oklahoma City car accident claim. Motor vehicle collisions with commercial carriers have complex related laws and statutes.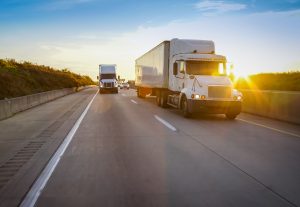 Correctly navigating these laws is one of your responsibilities as an injured crash victim or surviving a loved one. A lawyer from Dan Davis Law can help you understand all of Oklahoma's truck accident laws and what makes these cases unique, including:
Federal rules and regulations: The Federal Motor Carrier Safety Administration (FMCSA) enforces many federal laws that are in place to improve the safety of the commercial trucking industry. All common carriers must obey these rules, including hours-of-service regulations, cargo securement requirements, drug and alcohol testing protocols, hiring and training laws, and more.
Vicarious liability: The legal doctrine of vicarious liability often applies to commercial truck accident cases since trucking companies are employers. Vicarious liability is the allocation of legal responsibility to an employer for mistakes made by on-duty employees. This law means that you can most likely hold a trucking company responsible for the mistakes of a driver.
Catastrophic injuries: Truck accidents in Oklahoma often result in catastrophic injuries. A catastrophic injury inflicts long-term or permanent bodily injury on a victim, such as the loss of an important bodily function or a limb. It is more likely for a commercial truck accident to cause catastrophic injuries than a standard car accident.
Special evidence: Truck accident injury claims have unique types of evidence. Unlike a standard passenger vehicle, commercial trucks are equipped with black boxes (event data recorders). The data from a black box could prove that the truck driver made a mistake, or the truck experienced a malfunction. Other evidence may include employment records, driving histories, compliance reports, and truck maintenance logs.
Trucking companies often send crash investigators and others to the scene of a truck accident immediately – sometimes, even before the police arrive. These rapid response teams are deployed to try to collect evidence before anyone else has the chance. Although rapid response teams are supposed to be unbiased, they work for the trucking company. The best way to protect your rights and build your injury case is by contacting an Oklahoma City accident attorney right away.
Compensation Available for a Truck Accident in Oklahoma City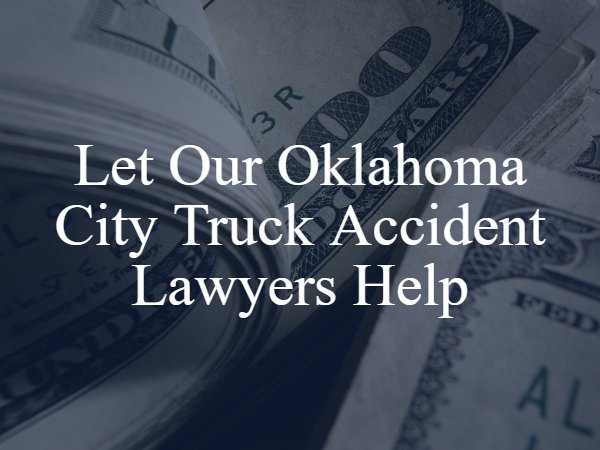 A successful truck accident lawsuit in Oklahoma City could result in reimbursement for many of your expenses connected to the collision. Civil law in Oklahoma allows injured accident victims to request financial compensation for their economic losses – such as medical bills, lost wages, lost capacity to earn, and property repairs – in addition to noneconomic losses, such as physical pain and emotional distress. For your suffering, you could be eligible for compensation for all of your past and future losses and expenses after a truck accident, especially with the help of our Oklahoma City brain injury lawyers and spinal cord attorneys, depending on your injury
Contact an Oklahoma City Truck Accident Attorney From Dan Davis Law Today
You aren't alone as the injured victim of a commercial truck accident. The attorneys at Dan Davis Law are here to support you and your family through the recovery process. We will answer your questions and make sure that you have all of the information that you need. Please contact us if you were recently involved in a truck accident in Oklahoma City. During a free consultation, we will let you know how we can help you get through this difficult time. Contact us or call (405) 930-4210 today.