Oklahoma City Premises Liability Attorney
A premises liability accident can cause guests serious injuries, such as bone fractures, brain injury, burns, and paralysis. If a property owner had a responsibility to prevent your accident but carelessly failed to do so, he or she may be financially responsible for your losses. At Dan Davis Law, we help injured accident victims hold property owners accountable and get their lives back on track. Find out how our Oklahoma City premises liability lawyers can assist you with a case.
Why Use An Oklahoma City Premises Liability Lawyer From Dan Davis Law?
Oklahoma City attorney Daniel Davis is a skilled litigator with a proven track record of success. He provides dedicated advocacy for clients with a personal feel at a family-run law firm.
Our Oklahoma City injury lawyers are experienced, caring, compassionate, and attentive. We care about the families that we represent and go above and beyond to make sure their needs are met.
We don't charge attorney's fees on premises liability cases unless we secure financial compensation for the client.
What Does a Premises Liability Lawyer Do?
A premises liability attorney has experience going up against individuals and entities in pursuit of financial compensation for an accident victim's losses. With assistance from a lawyer, you can increase the odds of collecting fair and full financial compensation for past and future expenses. A lawyer will know how to go up against insurance corporations and negotiate for a fair case outcome on your behalf.
From filling out claims paperwork to helping you navigate Oklahoma's premises liability laws, your Oklahoma City injury attorney can take care of many tasks for you to improve the overall value of your payout. This can include conducting a comprehensive investigation of your slip and fall accident and hiring experts to testify. Your lawyer can do all of this while you concentrate on healing.
If you suffered an injury due to a premises liability at work, reach out to our Oklahoma City workers' compensation attorneys to help walk you through your claim.
What Is a Premises Liability Claim?
A premises liability claim is a civil lawsuit that seeks financial compensation from the owner or controller of a piece of property that caused or contributed to a guest's injury. If there is evidence that the property owner failed to take reasonable steps to prevent the victim's injury, the owner may be held liable, or financially responsible, for related medical bills and other losses. You can be in a vehicle and still file a premises liability claim, just ask our car accident attorneys in Oklahoma City. However, premises liability claims typically can arise out of all of the following accidents:
Elevator or escalator accident
Swimming pool accident
Staircase or structural collapse
Fire or flood
Exposure to toxic substances
Criminal attack
If you or a loved one was injured in any of these types of accidents, you may have grounds to file a claim against the person in charge of property care, use, and maintenance. In general, the elements of a premises liability claim are:
1) You were lawfully on the property,
2) The defendant owed you a duty to maintain the safety of the premises,
3) The defendant failed to fulfill this obligation, and 4) this failure caused your injury or illness.
Injuries From a Premises Liability Claim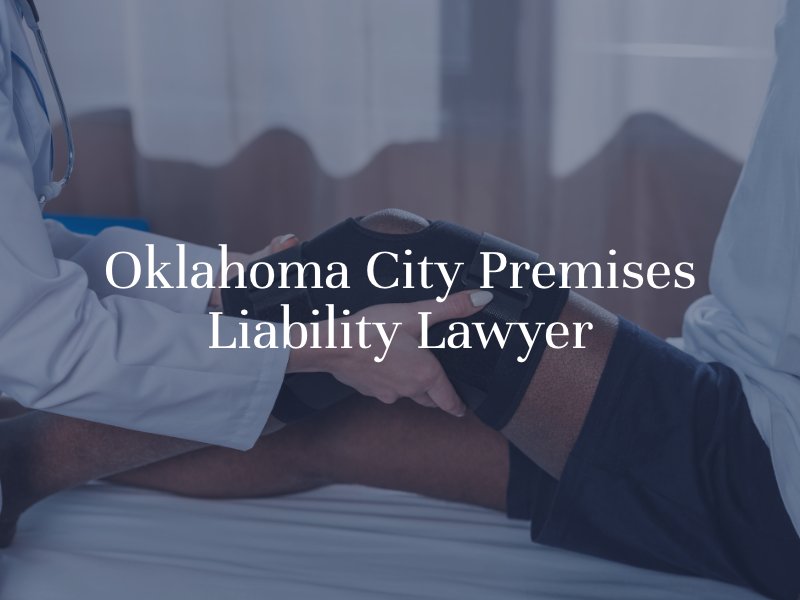 Whether you are a guest on private property, a patron in a hotel, or a customer in a shop or restaurant, you have a right to expect property owners or managers to take reasonable measures to prevent harm from coming to you by identifying and promptly addressing any safety hazards. Common injuries noted in premises liability claims in Oklahoma include:
Hypoxic brain injury from drowning

Back injuries

Neck injuries

Spinal cord damage

Fractures

Soft tissue issues such as sprains and torn ligaments

Crush injuries

Burns

Bruises and lacerations
Life can change in a moment when you suffer a serious injury. When the injury was preventable and only occurred because of negligence on the part of a property owner or manager, they must take responsibility for the damages caused by your injury. This compensation typically comes from their liability policy on their property insurance.
What Are the Property Owner's Duties?
In personal injury law, the duty of care is an ethical or legal responsibility owed to others not to cause harm. The exact duty of care that applies to a civil lawsuit depends on the circumstances and the type of accident. In a premises liability claim, a property owner's duty of care depends on the status of the visitor:
Invitees are owed the highest duties of care: the duty to check for new or hidden hazards, promptly repair discovered hazards, and warn visitors of injury risks.
Licensees are also owed duties of care. The same responsibilities apply to licensees as invitees, minus the duty to check for new hazards.
Trespassers are not owed anything by property owners unless they are children under the age of 18. In this case, they are owed the same duties as invitees.
Your classification as a visitor can determine whether or not you have the right to file a lawsuit in Oklahoma after a property defect injury. An Oklahoma City premises from Dan Davis Law can carefully review your case to help you understand which duties of care were owed to you by the property owner, as well as your legal rights based on this.
Evidence to Prove a Premises Liability Claim In OKC
While criminal law demands evidence beyond a reasonable doubt, in tort law, the injury victim must prove by a "preponderance of the evidence" that the at-fault party is liable for damages because the accident occurred on their property, and that they failed to take reasonable measures to address a known safety hazard. The injury victim must also prove that they've suffered damages due to the injury, such as medical bills, lost income, and pain and suffering. A skilled personal injury attorney will investigate your case to gather evidence such as:
Accident or incident reports from a business or commercial property where the injury occurred

A police report if one was filed

Surveillance camera video

Any photos of the accident scene and/or injuries

Eyewitness testimony

Testimony or other evidence indicating the property owner had prior warning of the safety hazard

Medical reports detailing your injury

Medical bills and invoices

Statements from your employer indicating missed days of work and lost income, or lowered earning capacity due to temporary or permanent disability from the injury  
A seasoned personal injury lawyer who is familiar with Oklahoma's complex premises liability law can diligently investigate every aspect of your accident to find evidence proving liability and detailing your damages.
Injured on Government-Owned Property In Oklahoma City?
Just as commercial and private property owners owe anyone lawfully on their property a duty of care to take reasonable measures to prevent injuries, city, state, and federal government agencies owe the same duty. If you've been injured in a city park, inside a courthouse, or on any government-owned property, you can still file a claim for compensation. It's best to have a skilled attorney with experience in the unique requirements for filing an injury claim against a government agency. Some differences between this type of claim and one against a typical property owner include:
There is a 1-year statute of limitations on claims against a government agency rather than Oklahoma's usual 2-year limit

You must file a Notice of Tort claim detailing how the injury occurred and allow the agency 90 days to review the notice before filing a lawsuit

Claims are filed in a special government office if they are against the state of Oklahoma vs. filing in the court within the jurisdiction for claims against city properties

Both the state and city governments place caps on damages limiting the amount you can recover for personal injury compensation
The lawyers at Caffee Law know how to navigate premises liability claims in Oklahoma against state and city agencies within the required time frames and damages caps to optimize the outcome of your case.
What Can I Gain From a Premises Liability Claim in Oklahoma City?
Any significant injury causes victims to suffer not only pain but also medical expenses and time away from work while they recover. Serious injuries can quickly become very costly with surgeries, treatments, and missed paychecks. In some cases, an injury can be catastrophic and have life-altering consequences. A successful premises liability claim can gain compensation for the following damages:
Medical expenses

Future medical expenses related to the accident

Income loss

Lowered earning capacity due to a partial or total disability

Pain and suffering

Any other relevant non-economic damages like disfigurement lowered life quality, or emotional trauma
If your injury was preventable, you shouldn't be left with an undue financial burden. Instead, your attorney will file a compelling claim for your damages with the appropriate insurance company and negotiate from a position of evidence-based strength for an ample settlement. If the insurance company doesn't offer an acceptable amount, we are fully prepared to take the matter to court with a lawsuit to win a jury award for damages.
While it's true that financial compensation for intangible damages like pain and suffering can't erase the pain or undo your injury, it is the civil court's only means of providing redress for a wrong that caused you significant harm. The financial compensation for non-economic damages can help open doors to better medical care and provide financial security while you focus on recovering from your injury.
Are Punitive Damages Available in Oklahoma City Premises Liability Lawsuits?
In very limited circumstances, Oklahoma personal injury law allows awards for punitive damages. Unlike compensation for medical expenses and pain and suffering, punitive damages are meant as a punishment to a defendant who engaged in particularly egregious behavior or whose actions resulted in an injury. Punitive damages also deter the defendant and others from repeating the action or behavior that caused the injury.
Punitive damages are usually reserved for those who committed willful wrongdoing, fraud, or intentional harm. Juries only award punitive damages in personal injury cases when the victim sustained life-changing or catastrophic injuries.
In a premises liability lawsuit, a jury might award punitive damages if the property owner or manager's actions showed a willful disregard for the danger to human life on their property, if their actions caused the hazard and they failed to address it, or if they engaged in fraud that resulted in a serious injury on their property. Like all civil cases, a premises liability lawsuit in a case of egregious wrongdoing resulting in a serious injury is conducted separately from any criminal proceedings in the case and regardless of whether or not there is a criminal conviction. Oklahoma places a cap of $100,000 on punitive damages.
Contact An Oklahoma City Premises Liability Lawyer Today
If you've been injured in an accident on residential or commercial property, you don't have to go through the legal process on your own. Turn to Dan Davis Law in your time of need. Our Oklahoma City premises liability attorneys will fight for your rights from the very beginning of your case. Start by requesting a free consultation today by contacting us or calling (405) 930-4210.