Oklahoma City Slip And Fall Lawyers
When you visit a store, restaurant, or someone else's property, the last thing you expect is to be injured in a slip and fall accident. Nevertheless, if the property contains a hazard or defect, however, it could cause you to fall and suffer an injury such as a broken bone or concussion. If you or a loved one has been injured in a slip and fall accident in Oklahoma City, contact the local attorneys at Dan Davis Law for a free legal consultation. Our Oklahoma slip and fall lawyers can help you make a case for maximum financial compensation.
Why Choose An Oklahoma City Slip And Fall Attorney From Dan Davis Law?
Oklahoma City attorney Dan Davis has been representing Oklahomans injured in slip and fall accidents for more than 25 years. He is a local attorney, with a law firm located in the heart of Deep Deuce, OKC.
Dan and his associates have obtained hundreds of millions of dollars for clients using aggressive legal strategies, including going to trial against powerful defendants when necessary.
Our Oklahoma City accident attorneys operate on a contingency fee basis, meaning you'll only pay your slip and fall accident attorney if your case results in a financial recovery.
Where Do Slip And Fall Accidents In Oklahoma Typically Happen?
Slip or trip and fall accidents can happen anywhere there are property hazards or defects, such as an uneven floor surface or spilled drink. Common defects are broken stairs, slippery floors, a lack of "Wet Floor" signs, loose rugs or floorboards, recently mopped or waxed floors, food debris, and snow and ice. You may suffer an injury in a slip and fall accident in many different locations in Oklahoma City, including:
Grocery stores
Supermarkets
Department stores
Shopping malls
Big box stores
Restaurants
Bars
Hotel or motels
Public swimming pools
Schools
Hospitals
Sidewalks
Parking lots
If you were injured in a slip and fall accident at Target, Wal-Mart, Sprouts, WinCo, Trader Joe's, Whole Foods, or another store in Oklahoma City, Oklahoma, you may be entitled to financial compensation from the company. Otherwise, the private owner of a building may be responsible for your injuries and related losses. Furthermore, if you were injured in a slip and fall accident in the workplace, reach out to our skilled workers' compensation attorneys in OKC today!
Do You Have a Slip and Fall Claim?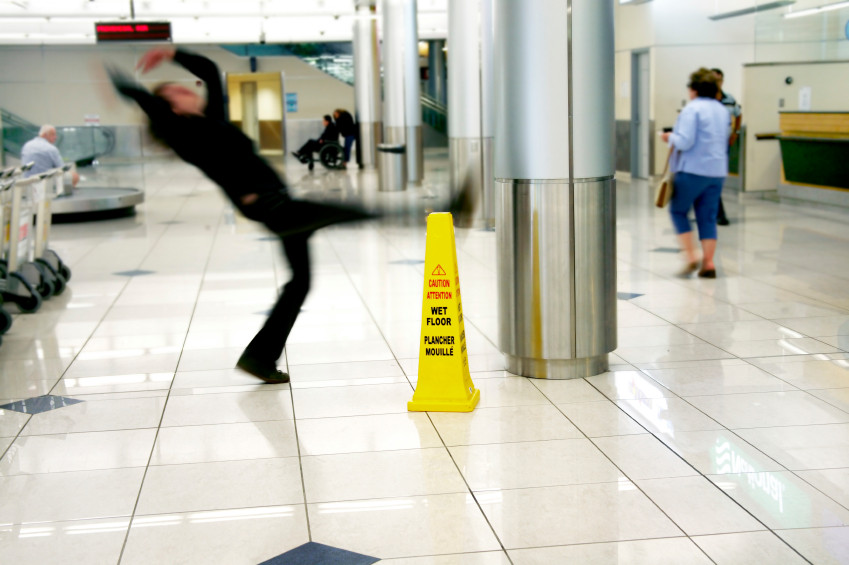 A slip and fall lawsuit falls under the umbrella of premises liability law. An Oklahoma City premises liability claim works by allowing an injured accident victim to pursue financial compensation from the owner or controller of a property if that entity was negligent in the care or maintenance of the property. Negligence is the failure to use a reasonable or appropriate amount of care, resulting in injury or death.
If you lost a loved one due to unsafe premises, please reach out to our Oklahoma City wrongful death attorneys today.
You may have grounds to file a premises liability claim after a slip and fall accident in Oklahoma if the owner of the property breached or violated the duty to properly maintain the premises and if this is what caused your fall. You must also have lawfully been on the property, such as on public property.
In general, if a reasonably prudent property owner would have done more to prevent your slip and fall, the owner of the land where you fell may be financially responsible for your accident. A successful insurance claim or injury lawsuit could result in payment for your medical bills, lost wages, legal fees, pain and suffering, and more.
Contact an Oklahoma City Slip and Fall Lawyer Today
Holding an individual or company responsible for failing to prevent your slip and fall accident can bring you the answers, justice, and financial compensation that you need to move forward. To learn more about your right to bring a premises liability claim after suffering a slip and fall injury, contact our local injury attorneys in Oklahoma City at Dan Davis Law. We offer free initial consultations and do not charge unless we win your case. Contact us or call (405) 930-4210 today.